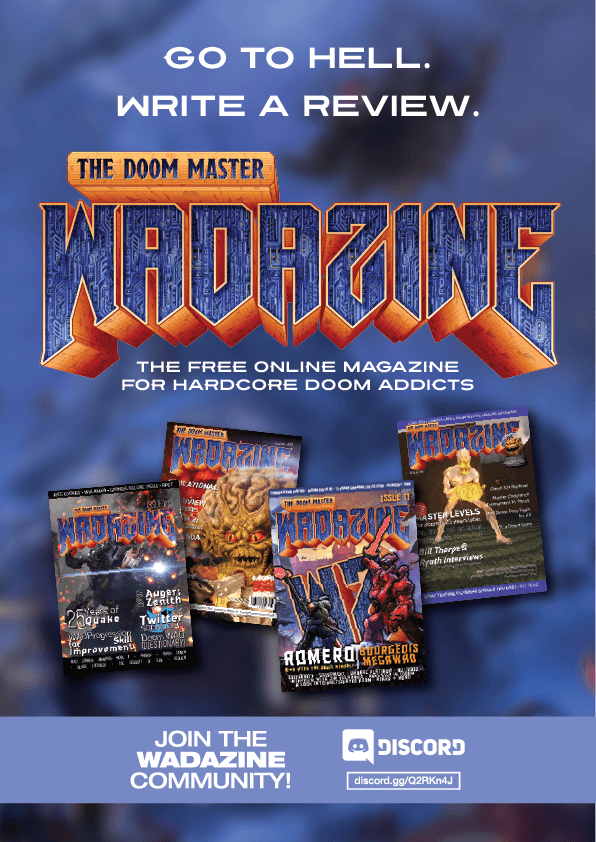 What is the Wadazine?
Endless was a Doomer with a dream- and that dream was a hardcore Doom magazine.
The Doom Master Wadazine is your guide and companion to the beautiful world of Doom and WADs! We are a monthly, FREE e-zine, focused on anything Doom-related, with special attention to classic Doom and WADs.
If you're a hardcore Doom addict, you've come to the right place! The Wadazine is completely created by the Doom fan community and publishes articles, interviews, WAD reviews, fanart, fanfics and more!
Check out the latest issue for FREE right now!
FAQ
» What is The Doom Master Wadazine?
Your guide and companion to the beautiful world of Doom and WADs! We are a monthly, free e-zine, focused on anything Doom-related, with special care on Classic Doom and WADs.
» Why is it named like that?
Wadazine is the combination of WAD + Magazine = Wadazine. Doom Master is a reference to the game itself, the Master Levels, the Masters of Doom book and to the fact the we are the top magazine for anything Doom related; masters of Doom!
» Can I contribute or help in any way?
Sure! Just send me a message ( [WZ] ???????#2065, on Discord) Any submission is welcome, with a quality-check done by me; so try to follow the standards of the already published submissions in any of our issues to avoid a reject.
» Is this exclusively Doom?
Yes and no. Our main focus is Doom, but you can also talk about other Doom-engine games, i.e. Heretic.
» What are the Doom Master Recommendations?
A special, honorary recommendation to emphasize WADs of amazing quality in the current year. One WAD is chosen per month to highlight a major quality release. There's 12 Master Recommendations per year, in theory.
» How often is it published?
We aim an issue every month.
» How does this work?
We are a community project and team effort; we operate on the basis of the actions of a fixed team of passionate Doomers, and in large part on the support of the community submissions.
» How long will this last?
Eternal.
» Do you pay for participating?
Nope. Everyone who participates here does so non-profit-making. For Doomers, by Doomers. For free.
» I have more questions.
Contact me if you want. ([WZ] ???????#2065)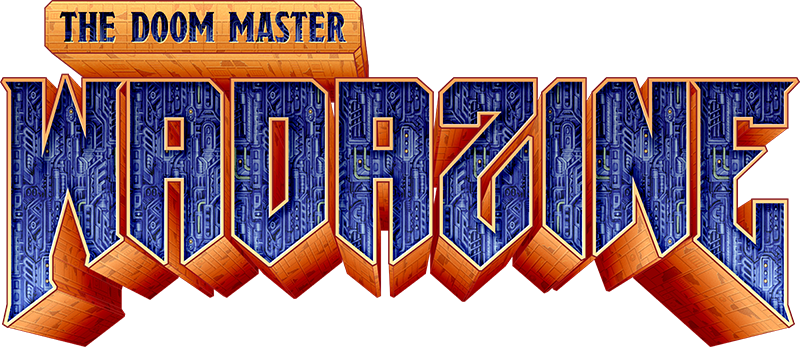 Inspired by that nostalgic feeling of the 90s, together with the over-the-top artistic style characteristic of the classic games that gave birth to an entire genre, and of course, mixed with a great passion and love for the father of all FPS videogames, the Doom Master Wadazine was born out of obscurity. What started in the beginning as a simple literary project made with the most rudimentary and rustic methods ever, ended up becoming a complete community dedicated to share the passion for Doom, to play and enjoy the maps made by awesome authors, and to share the deep and fascinating history of a videogame with almost 3 decades of continous life.
This is the Wadazine, an ode to not just a game, but a way of life. Born on July 19, 2020, the Doom Master Wadazine first started as a simple personal project created by Endless, a passionate doomer who has dedicated much of his career to exploring, discovering, reviewing and writing articles related to WADs.
The first ideas for the Wadazine began to form thanks to individuals within the community who shared their opinions in an organized, stylistic and fantastic way about all kinds of WADs. Unfortunately, the community in general did not have any sort of active review repository, or general round-up to keep the community up to date on the latest projects. The closest thing to such a thing was the legendary and long-running /newstuff Chronicles, which came to an end in 2018. After that, the game's literary community fell relatively silent, with only the Cacowards event remaining as a testament to this hidden skill of the Doom community. It was time to put efforts where they were needed and launch something different.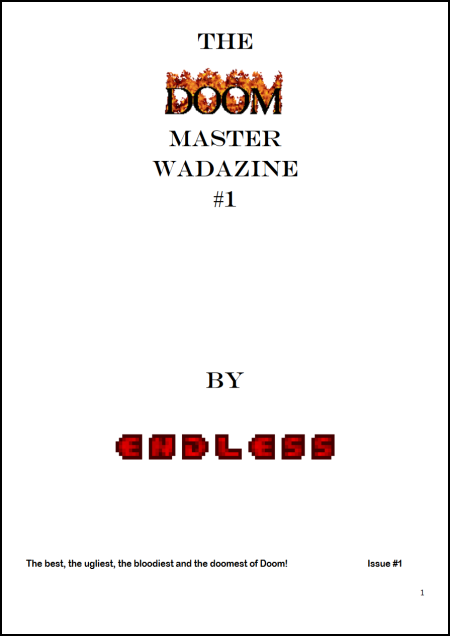 Launched, quite literally, in a simple document designed in Word 2013, the Wadazine saw the light of day into the community. Previously, a small prototype designed with the aim of seeking support, advice and opinions was made. Thanks to the positive reaction to this initiative, Endless went to work in his cave to design the first edition, which, despite looking like a kind of school paper created by a kid, ended up becoming an effort of pure heart and love for Doom.
It ended up having a positive, charismatic and supportive reception to the event in question. Little by little the Wadazine began to have a name, to have a home. The community accepted the Wadazine not only with open arms, but offered to help. A huge crowd of gamers, writers, reviewers, editors and designers started to join. Little by little the Wadazine started to grow into something unique. In less than a month, it had its own logo, in three months, it had multiple writers, and in six months, the Doom Master Wadazine became the #1 magazine for all things Doom; professionally designed, lovingly delivered and passionately continued.
The Wadazine team has grown, changed, evolved and improved. Not only has experience shaped us, but also the love and reception of the community. This project would end up becoming a complete movement, generating a lot of related events, particular projects and games made to celebrate with friends. The Wadazine will continue on this path, because as long as Doom exists, so will we.